Hearing Loss Information
To understand hearing loss, we must know some about the way we hear. We hear in two ways: by conduction of sound energy; and via neural pathways to the brain leading from our cochlea.
Sound Energy Conduction
Sound ways travel through the air, water, walls, practically all things.
Our Outer (Pinna) and Middle Ear and Skull collect sound waves and conduct them to our organ of hearing, the cochlea.
Within the cochlea, the mechanical energy is transformed into chemo-electrical signals that are transmitted via the Vestibular Nerve to the brain.
Hearing loss occurs when either the conductive component is disturbed and/or the chemo-electrical system malfunctions. If the conductive component is interrupted, a "conductive hearing loss" has occurred. Should the chemo-electric system fail, a "sensory neural" hearing loss has been diagnosed.
---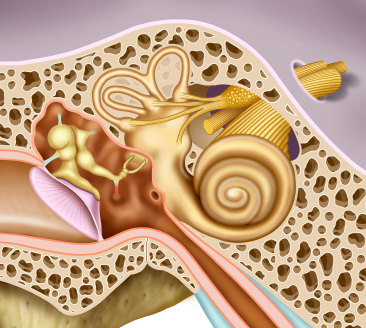 The outer ear (Pinna) collects sound waves and feeds them into the external ear canal. The ear drum absorbs this energy and transfers it into the MIDDLE EAR via a chain of tiny bones called the Ossicular Chain. There are three bones making up this chain: The Malleus (Hammer), the Incus (Anvil) and the Stapes (Stirrup).
If the ear drum is damaged, or the connection (joint) between these three bone become separated, or should any or all of these bones become damaged or diseased, a Conductive Hearing Loss occurs. If a person experiences a sudden onset hearing loss, a hearing professional should be seen, an Audiologist or an Ear, Nose, Throat Surgeon. The professional will test your hearing and isolate where the loss is.
If a conductive loss is diagnosed, and the drum and bones of the middle ear be damaged, the ENT Surgeon may suggest a surgical procedure, termed a "Tympanoplasty". This surgical procedure is performed to replace or fix the ear drum and/or replace one, two or all three of tiny bones in the middle ear. Implants made from bone, titanium or Hydroxylapatite are used to replace the tiny bones. If you wish to see these implants, please see our online catalog for Total or Partial Ossicular Replacement Prostheses. A hearing aid, may also help restore better hearing.